Hi everyone.
I was asked by my mentor to attend a mandatory seminar by Lisa Maile. before I get any further into that I'd like to say that this post won't be addressing anything with technology this week, it'll be more about brief key take aways I've learned from going to one of these seminars which can be useful to anyone reading this.
Most of the content she went over was basic information we all need to know when having to present ourselves during interviews, it never hurts to get some further pointers. It was a great experience! 
Overview
95% of all interviews take place BEFORE they even begin.
10% of them are communication

25% of them are about projecting your voice

65-70% – Image and how you present yourself
It takes about 4-10 seconds for an interviewer to make their decision!
Branding
That famous phrase "sell yourself" definitely plays a role in the corporate world.
"We are what we look like, what your Image & what you bring to the table also represents the  companies reputation."
How you carry and package yourself says a lot about you coming into any profession so use good branding words such as
Accomplished, Dedicated, Gifted, Talented, Energetic.
which give off a positive outlook to employees.
Dress for Success
I'll continue this post with a few guidelines for men & women on appearance along with Do's and don't for interviews.
Image Guidelines for Women and Men
The most powerful look for ladies (according to Lisa Maile's advice) is a two piece matching skirted or pant legged suite in conservative dark colors (ex black, grey, navy blue).
This Image with Women is also comparable to Men's business suites.
I'm only speaking about this briefly, these pictures are just quick examples to get an idea.
Four factors to combine in coordinating a look:
color, pattern, texture, and shape. The most conservative selection in each area gives off the perception of authority and professionalism in your appearance.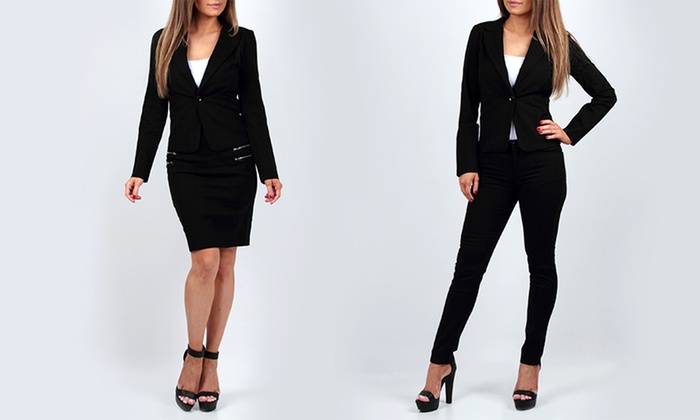 Interviewing Tips
Keeping in mind the image factors above,

look better than an average employee

, it's a plus. always. 
Prepare 

learning as much as you can about the company prior to the interview is key.

Your intro will set the tone for the rest of the interview. Make it count & own it. 

Beforehand,

determine what you'll want to bring into the table

involving your skills such as sharing your previous experiences to feel comfortable around a potential employer. 

"Tell me about yourself" uses

subtexts

which means they want to know how you are useful to their company in terms of the employers needs. 

Filler words

limit those ums, uhs, huhs, likes, duhs, along with pauses and stalls, try using a broad vocab that relates to factual things about your experiences. 

Body language

, be mindful of how your perceiving yourself with nervous energy, fidgetiness, nail biting, playing with jewelry, try being energetic and enthusiastic.

Gestures,

follow up to the previous tip, help you seem more open with your body language and relieve nervous energy.

Eye contact

. In some cultures it's seem as disrespectful to not maintain eye contact, this is so important for your employers as well, throw in a smile and volume and they'll be a little more than impressed.  

Ask them questions!

They like the interaction, it can very from the company, to them, workflow, or even, if your daring enough, how your interview with them went for feedback purposes.
I hope this brief summery of Lisa's seminar helped somewhat, I'll be attaching her handouts and more informative resources into the bottom of this post.
Thanks for reading.